Git commit sutta : A fun approach towards growth of developers by developers
Jun 22-23, 2019
Starts in
days
hours
minutes
seconds
git commit sutta is global initiative targeted towards growth of developers and promoting equal opportunity
3 key things in our daily lives as developers are continous learning, productivity and well being.
git represents learning
commit represents productivity
sutta is a reminder to destroy unhealthy habits
A unique event where the key activities will be around following categories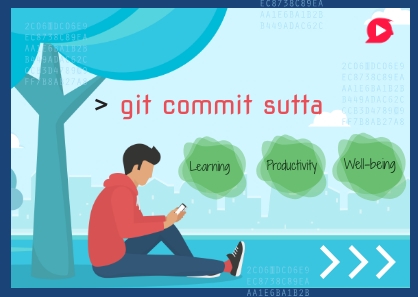 Futuristic Breakthrough Showcase : Showcase of recent technological breakthoroughs that are going to change the game for all people in specific technology or industry
Learning : About technology, software engineering, tools, product, growth & entrepreneurship
Productivity : About personal and team productivity
Well-being : About physical, mental and digital health
Speakers list:


Full list will be released soon...
Last updated on May 15
We invite you all to associate with us in any of the following ways
1. Speaker: Share your knowledge with wonderful dev community. Pick any topic from above themes. We encourage first time speakers, we will help you out with all the guidance you require to make your first public speech a success.
2. Volunteer: Volunteer to join the organizing team, get connected to influencing people/company in tech industry.
3. Partner: Do you want to give back to developer community, this is your chance to work with us as partner to deliver the value.
4. Refer speakers: If you know someone who can speak on any of the above themes, please connect them with us.
---
Location: Online(we want this to be location independent so that everyone can attend, irrespective of wherever they are)
Event date: Jun 22-23, 2019 (Sat-Sun)
Deadline to apply as speaker: May 06, 2019
Agenda: Complete agenda will be released soon
Key activities are going to be as following
Talks on new innovations, productivity, leadership, privacy, skills for career, critical thinking and health
Q&A
Networking with speakers and the attendees
Showcase your creation and your knowledge
Awards and recognition for your creations and breakthroughs
Registration starts: April 6, 2019 on eventsbrite
---
About organizer:
Invide is world's first accelerator for developers and has been helping out developers to grow. Invide started in 2016 as a highly curated invite-only community of developers with strict selection philosophy that brings focus on talent and breaks biases of location, sex & religion etc. Invide has screened 15000 applications till now with 1.2% of acceptance rate.
Contact us at friends at invidelabs dot com for any queries.
Note:
If you're a developer, keep an eye on this page
We are accepting applications for our next batch of Accelerator For Developers. Apply here